Uuwo Dispensary
The health s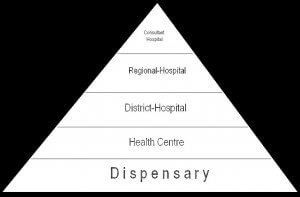 ystem of Tanzania has a hierarchical structure. The dispensaries are working on the base. It is intended that a dispensary should care for about 10,000 inhabitants. A dispensary may have different supporting organizations: state, church or private.To get an official registration of a dispensary there are certain criteria to fulfill.  
Already before entering into the partnership in 1985 Uuwo had a small primary care center owned by the church parish. Over time, the center developed to an official recognized and registered Dispensary. By now there are 2 clinical officers, a midwife, a laboratory technician and 3 nurses. They ensure a basic supply of common diseases, such as respiratory diseases, malaria, AIDS, diabetes and hypertension. The Dispensary is equipped to provide normal midwifery and the women can stay there stationary after birth. Also regular checkups of pregnant women and of newborns are conducted in the dispensary. The Dispensary includes a laboratory and a pharmacy. Power is supplied during power shortage through a permanent emergency generator.
Associated to the Dispensary is a modern mortuary with a cooling chamber, which is in use since of 2005. The mortuary is highly used also by neighbor parishes. The building of the Dispensary and mortuary were supported by donations from Heikendorf and BINGO! Project funding.
The association Kieler Ärzte für Afrika (KÄfA)  "Kiel´s Doctors for Africa" was founded in 2007. A partnership between the Uuwo Dispensary and the Park Hospital in Kiel was contracted. From this time KÄfA took over the medical advice and financial support of salaries and medical equipment. The Dispensary is not only for the population an indispensable institution, but also for the boarding schools, Upendo School in Kirimeni and Samaritan School for disabled children in Uuwo, as well as for the orphans, who get a kind of insurance coupons for medical treatment.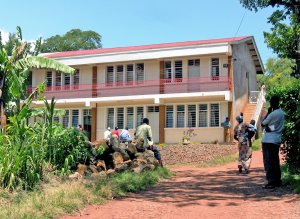 The health insurance system is now developing slowly in Tanzania, but is not yet mandatory. Dispensary Uuwo Currently KÄfA supports the construction of official residences for qualified employees of the dispensary. Long-term aim is to upgrade the dispensary into an official recognized Health Center.